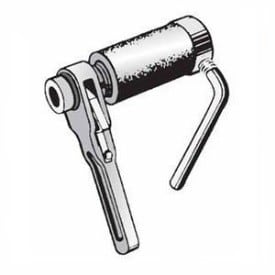 Ferrules and reinforcing rods represent one of the oldest tying systems in the world. However, the loading capacity of the ferrule has always been a matter for conjecture as it's carrying capacity depends entirely on how tight the pinch bolt of the ferrule is.
Even with adequate force applied the tendency is still for the ferrule pinch bolt to slip on the tie rod.
For this reason, BuildEquip cannot give loading figures for their ferrules and strongly advise that the use of ferrules is limited to such applications as tying in shallow beam sides etc.
Ferrule 12mm
Available in one size only and manufactured from high quality cast iron.
Overall length of Ferrule: 40mm
Maximum diameter of tie rod: 10mm
Weight: 0.2kg
Ferrule Jack
The Ferrule Jack is used to tension the tie rod prior to clamping the ferrule pinch bolt. The tie passes through the jack and tensioning is achieved by ratchet action.
Weight: 2kg
Safety

 Safety Footwear
Wear safety footwear for toe protection.

 Protective Gloves
Gauntlets, PVC, cotton or rigger gloves for hand protection.

 Safety Helmets
Protect against falling objects. Compulsory on site. Bump caps protect from overhead obstacles.