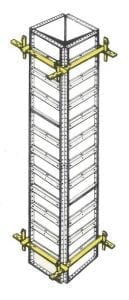 For rapidly and rigidly clamping of temporary concrete column formwork the use of column clamps is standard practice throughout the building industry. Six sizes are available and the Column Clamps are interchangeable which allows for narrow, rectangular, square or polygon columns to be clamped. The punched slots are staggered and lap each other to provide infinitely variable adjustments to cover all sizes of columns.
Column Clamps save time and labour by reducing time taken to fit and dismantle the normal timber type clamp. This also reduces timber wastage. Only a hammer is required for speedy fixing of the Column Clamp Wedge
| | | |
| --- | --- | --- |
| Clamp Number | Column Size | Weight/kg |
| No. 1 | 150mm - 450mm | 3.0 |
| No. 2 | 150mm - 600mm | 3.4 |
| No. 3 | 300mm - 800mm | 4.4 |
| No. 4 | 350mm - 500mm | 3.2 |
| No. 5 | 500mm - 800mm | 5.4 |
| No. 6 | 800mm - 1200mm | 6.0 |
Accessories
Operating Instructions
Recommended spacing's for column clamps
To arrive at accurate spacing's for Column Clamps presents some problems when using timber shuttering. However, we have arrived at certain spacing's on a trial and error basis with a column of 3658mm high x 450mm x 450mm.
The spacing's shown should be adjusted to suit the span of the timber formwork.
A = 3658mm
B = 152mm
C = 250MM
D = 305MM
E = 356MM
F = 405MM
G = 457MM
H = 510MM
Method of fixing
The clamps are equally effective whether the column formwork is of steel or timber.
Timber
In the case of timber formwork, two nails in the timber at the required level will provide a temporary rest for the clamps, enabling one man to make the necessary adjustments and fix the wedges in the appropriate slots. By driving home the wedges the box is automatically pulled square.
Steel
In the case of steel formwork where nails cannot be used, the clamp is best divided into two parts which are then brought together and secured by two men in a matter of minutes. For normal storey height columns where the column box can be made up from wall form or multi-purpose type panels, column clamps are normally required at the top and bottom of the box. However, if a vertical panel joint is to be found within the form face we suggest further clamps be added.
Safety

 Safety Footwear
Wear safety footwear for toe protection.

 Protective Gloves
Gauntlets, PVC, cotton or rigger gloves for hand protection.

 Safety Helmets
Protect against falling objects. Compulsory on site. Bump caps protect from overhead obstacles.