Product Description
The Selflock Scaffold Towers are quick, safe and easily erected to meet the requirements of all types of access trades, interior and exterior. The components simply slot together, eliminating the necessity of fittings and tools that would otherwise get lost or damaged.
The towers can either be mobile or static with the use of castor wheels or base plates and base jacks. Guardrail posts and handrails are easily fitted giving a safe and rigid access platform. All frames are made from strong, lightweight steel tube. The frames are available in four widths: 914mm, 1524mm, 2134mm and 3048mm which when interchanged can give ten different base dimensions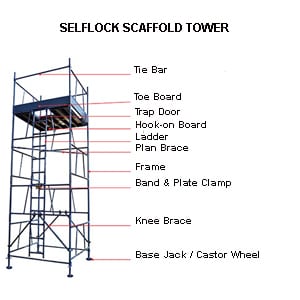 Product Specifications
Frame 914 Weight - 8.8kg
Frame 1524 Weight - 11.5kg
Frame 2134 Weight - 13.4kg
Frame 3048 Weight - 19.5kg
Components
Frames
Tie Bars
Plan Braces
Knee Braces
Hook-on Boards
Ladders
Base Plates
Base Jacks
Castor Wheels 200mm with Foot Brake
Toe Board Clips
Toe Boards
Trap Door
Band & Plate Couplers
Operating Instructions
Place the first two frames parallel with each other and slot on a plan brace from corner to corner.
Place the next two frames at 90° to the first two and add the knee braces, one on each corner if required.
Add the base plates, or base jacks, or castor wheels.
Add further frames in the same manner until the required working height is reached. Plan braces should be included at every 2743mm (3 frames) in height.
The top two frames are then tied across with Tie Bars which create a handrail.
Access ladders and Scaffold boards are placed at the required platform heights, with trap doors and toe boards as required.
Platform heights of mobile tower should not exceed three times the smallest base dimension, four times for a static tower.
Mobile towers should only be moved by force applied to the base and when the working position is reached, the wheels should be turned outwards to increase the base dimension and locked in position.
Access to working platform should be from the inside only and by ladder.
Use Hook-on Ladders to access working platforms and trap doors at each working platform.
Safety

 Safety Footwear
Wear safety footwear for toe protection.

Protective Gloves
Rigger gloves for hand protection.

 Safety Helmets
Protect against falling objects. Compulsory on site.
Safety Harness
Use of safety restraint harness.