Quickstage is South Africa's most common modular scaffolding system and has been around for almost 40 years. It is still the premier system of choice for access scaffolding in South Africa.
Properly erected with safe working platforms, Quickstage provides a versatile and robust access solution that has proven its ability to endure local conditions.
Quickstage is manufactured to comply with stringent standards and specifications using only high quality material and workmanship.
Conforming to all the relevant SABS Standards and South African regulations, Quickstage has been used to provide safe access scaffolding extending to over 100m in height.
The limited number of components makes the system easy to use and therefore provides a very cost effective solution.
System Features
Uncomplicated modular design.
Easy to erect, use and dismantle.
Versatile height and width configurations.
Safe working platforms with trapdoors.
Staircases provide easy access.
Components are easy to palletize and transport.
Components                                       
Standards
Ledgers
Cantilever Brackets
Diagonal Braces
Base Jacks
Base Plate
Connectors
Double C-Pressing Bracket
Toe Board Clip
Toe Boards
Hook-On Ladders
Ladder Brackets
Hook-on Boards
Trap Doors
Trap Door Transoms
Stair Stringers & Treads
Staircase Complete
Accessories & Couplers
Ladder Beams
Scaffold Tubes
Swivel Coupler
90 Degree Couplers
Band & Plate Coupler
Internal Tube Spigot Couplers
Handrail Holder Bracket
Staircase
Operating Instructions
Base Jacks or Base Plates are inserted into the bottom ends of a pair of Standards, which are held in position by a Ledger connected at the lowest 'U' pressing position.
A second Ledger is then placed at the top most 'U' pressing position.
A third Standard with its Base Jack or Base Plate is then positioned at the other end of the first bay and a Ledger of appropriate length is placed in position at the lowest 'U' pressing position on the Standard.
The scaffold is now self-supporting and a fourth vertical Standard can be connected with an additional Ledger.
All wedges of the Ledgers should be finger tight at this stage.
Where adjustable bases are used, the bay can now be levelled and the wedges driven home.
Hook-On Boards and upper Ledgers and can now be placed at any desired 'U' pressing position.
The method shown automatically provides a working handrail with the minimum number of Ledger components.
Improved stability is obtained by the addition of Diagonal Braces.
Hook-On Boards are positioned on the Ledgers as required.
Access Hook-On Ladders and Steel Hook-On Boards are placed at the required platform heights, with trap doors and toe boards as required.
Toe Boards are secured using the Toe Board Clips on the Standards at the positions required.
Access to working platform should be from the inside only and by Hook-On Ladder.
Where products have to be carried up the scaffold the use of Staircases are advised for ease of access.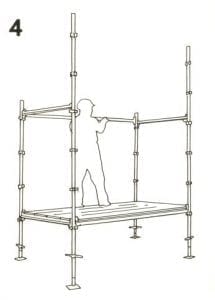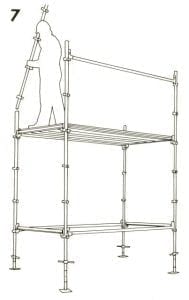 Safety

  Safety Footwear
Wear safety footwear for toe protection.

  Protective Gloves
Rigger gloves for hand protection.

 Safety Helmets
Protect against falling objects. Compulsory on site.
  Safety Harness
Use of safety restraint harness.