GEOTUB is a reusable formwork in plastic for the production of round columns:
unlike other formwork (in wood or cardboard), it is easy and quick to dismantle.
The GEOTUB is particularly suited to build columns when working in presence of water, which can make the work difficult and complicated. In this case, the use of GEOTUB is the only possible solution since it is made of ABS (Acrylonitrile Butadiene Styrene). In fact, this material, compared to cardboard and steel, does not suffer from degradation due to natural weathering. Moreover, thanks to its lightness and modularity, the work of the labourers are much easier even in difficult situations such as those mentioned above.
The advantages
light, weighing max 10 kg
quick installation and dismantling
suitable for columns up to 6 m
excellent smooth surfaces
water resistant
Product Specifications
GEOTUB are available in diameters 250mm, 300mm, 350mm, 400mm, 450mm, 500mm, 600mm, 700mm, 800mm, 900mm and 1000mm
Configuration for a 3 meter column
| | | | |
| --- | --- | --- | --- |
| ø Nominal diameter (mm) | Length of single form  (mm) | Forms per column of 3 m (pcs.) | No. Handles per column of 3 m (pcs.) |
| 250 | 605 | 10 | 60 |
| 300 | 605 | 10 | 60 |
| 350 | 605 | 10 | 70 |
| 400 | 605 | 10 | 70 |
| 450 | 605 | 10 | 80 |
| 500 | 605 | 10 | 80 |
| 600 | 605 | 10 | 90 |
| 700 | 605 | 10 | 100 |
| 800 | 605 | 10 | 100 |
| 900 | 605 | 10 | 110 |
| 1000 | 605 | 10 | 110 |
Max. pour height (single pour)
ø25 – 40   = 6000 mm          ø45 – 60 = 4800 mm            ø70 – 100 = 3600 mm
Accessories
Operating Instructions
Handle Assembly
Insert handle and twist 90 degree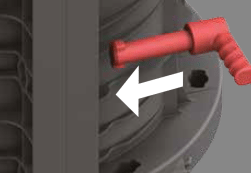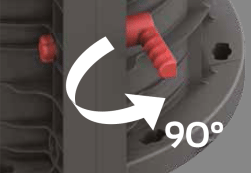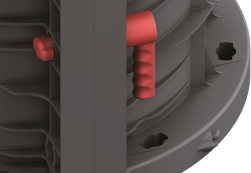 Ground Anchoring
Anchoring to the ground to avoid lifting of the formwork is done using metal bracket or otherwise with timber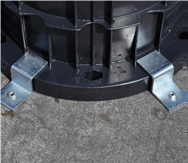 The shoring is performed using a steel bracket to connect push-pull props to the formwork.
Pour
Only immersion concrete vibrators are allowed. ABS formworks are not fireproof, so do not place them close to hot objects or open flame.
Handling
Use the Geoplast lifting hook to move the assembled elements with a crane. Before lifting make sure that the lifting cables have a uniform draft.
Releasing Agent
Always use a formwork releasing agent available as a sales product from BuildEquip.
Safety

Protective Gloves
Gauntlets, PVC, cotton or rigger gloves for hand protection.
The operations of positioning, assembling, dismantling, plumbing, handling and cleaning of GEOTUB products, as well as the pouring of the concrete, must be carried out by a competent and properly trained person or under the supervision of the site manager who must ensure that:
- All above mentioned operations are carried out properly,
- Every person working with the formworks is equipped with suitable tools and personal protective equipment to perform all necessary actions in full compliance with the safety standards,
- All panels and the supplied accessories are checked before use, discarding those which should not meet the minimum standard of reliability and safety because of the presence of any breakage and/or deformation,
- The formwork is installed on a perfectly flat surface, so as to work safely and ensure a perfect shoring and plumbing,
- All connection, alignment and plumb accessories of the formworks are properly tightened and secured to the ground before starting the pour.
BuildEquip disclaims any liability or responsibility arising from improper use of GEOTUB formwork. Any assembly of moulds and/or use of accessories otherwise described in these guidelines must first be approved by BuildEquip.
Cleaning and Maintenance Information
After every use, cleanse the panels with water (preferably with a pressure washer). Any deposit of concrete should be removed with a spatula or a wire brush.
In order to facilitate the handling and lifting of the panels and all accessories, store them on pallets or battens to keep them off the ground. Although the product does not suffer weathering, it is preferable to store the panels in a dry place away from direct sunlight.